Skip to Main Content
It looks like you're using Internet Explorer 11 or older. This website works best with modern browsers such as the latest versions of Chrome, Firefox, Safari, and Edge. If you continue with this browser, you may see unexpected results.
American Annals of the Deaf
Topics in Language Disorders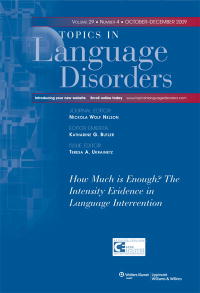 Relevant Databases
The Carmichael Library has access to several databases germane to the study of communications and mass media. Click the link below to access our collections, or use the search boxes on this page to access content directly.
Communication and Mass Media Complete

This link opens in a new window

Covers journals in communications and mass media, including communication studies and communication science and disorders

ERIC (EBSCOhost)

This link opens in a new window

Provides indexing and abstracts for journals and ERIC documents in areas relating to education at all levels. |

Watch video tutorial

PsycINFO

This link opens in a new window

Contains nearly two million citations and summaries of journal articles, book chapters, books and dissertations, all in the field of psychology
Top Journals in Communication Science Disorders